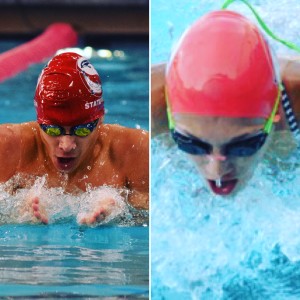 SLHS Sophomore Sebastian Zeron (left) and SLHS Freshman Clarice Albert (right)
Although SLHS does not have its own swim program, we do have bragging rights when it comes to two of our Falcons. Sebastian Zeron and Clarice Albert are two of many Falcons that have chose to follow their passion – in this case aquatics – and we applaud them for it. Both Zeron and Albert are members of the Douglas Dolfins Swim Team, under Head Coach Kathleen Matheson.
Considering she did not compete frequently this last summer due to traveling abroad, Clarice still managed to shave time off of her races this season. Clarice joined the Douglas Dofins Swim Team when she was seven years old and competed in her first official recorded race at nine years old. This season, when Clarice competed in the Molly Lahlum Memorial Autumn Freeze 100 Free, her time was 1:07.98; when she went to King of the Hill, she shaved off time and ended up with 1:05.41. In the 200 Breast, Clarice made 3:20.79 at the Molly Lahlum Memorial Autumn Freeze; when she went to King of the Hill, she once again cut her time by over 4 seconds and ended up with 3:16.46. Clarice is hoping to attend the State Meet next year.
Zeron just returned from the 2015 State Meet in Las Vegas, where he beat his own times. A press release from the Dophins reads, "Sebastian Zeron, the final Dolfins State competitor, was also a 100% improvement swimmer dropping .14 in the 50 freestyle finals for a new AA time of 23.73 and 19th place, 1.82 in the 100 freestyle for a new AA time of 51.01 and 14th place, 1.37 in the 100 backstroke for a new BB time of 1:03.74, 1.53 in the 100 breaststroke for new A time of 1:07.29 and 16th place, 1.14 in the 100 butterfly prelims returning to place 18th, 2.40 in the 200 individual medley for a new A time of 2:09.92 and 23rd place, and shaved off .16 in the 400 individual medley."
Kudos to these excellent student athletes!